Education:
1979-1983: BS, College of Pharmacy, Chungbuk National University
1983-1985: MS, College of Pharmacy, Seoul National University
1988-1994: Ph.D, College of Pharmacy, University of Georgia (USA)
Career:
1994-1996: Post Doc., National Institute of Health (USA)
2000-2002: Visiting Researcher, College of Medicine, Emory University (USA)
1996-present: Professor, College of Pharmacy, Chungbuk National University
Selected Publications
1) Yoo, H.S.; Hong J.T.; Lee, Y.M.; Yun, Y.P.; Lee, Y.S.; Choi, K.M.; Choi, M.H.; Ji, S.Y.; Yoo, J.M. Simultaneous HPLC Analysis of Ceramide and Dihydroceramide in Human Hairs. Arch. Pharm. Res. 2009, 32, 1795-1801.
2) Yoo, H.S.; Shin, H.W.; Kim, D.; Lee, Y.S.; Lee, B.J.; Kim, J.S.; Jang, S.; Lim, H.; Lee, Y.; Oh, S. Alteration of sphingolipid metabolism and pSTAT3 expression by dietary cholesterol in the gallbladder of hamsters. Arch. Pharm. Res. 2009, 32, 1253-1262.
3) Yoo, H.S.; Yun, Y.P.; Pyo, M.Y.; Hong J.T.; Im, J.H., Jin, Y.R.; Lee, J.J.; Yu, J.Y.; Han, X.H.; Im, S.H. Antiplatelet activity of β-carboline alkaloids from Perganum harmala: A possible mechanism through inhibiting PLCγ2 phosphorylation. Vascul. Pharmacol. 2009, 50, 147-152.
Research Areas
1) Sphingolipids?
Ceramide synthesis occurs in the endoplasmic reticulum, and is initiated by serine palmitoyltransferase, a pyridoxal 5-phosphate dependent enzyme, to produce 3-ketosphinganine which results from the condensation of serine and palmitoyl-CoA. Ceramide can be metabolized to glycosphingolipids by a glucosylceramide synthase. Sphingolipid turnover involves removal of the sugars by exoglycosidases and the phosphorylcholine of sphingomyelin by sphingomyelinase. After removal of the sphingolipid head group, Ceramide can be either reutilized for complex sphingolipid formation or undergo further breakdown processes. Ceramide at the C-1 position was phosphorylated by ceramide kinase to ceramide 1-phosphate.

2) Adipocyte Differentiation
Adipocytes are a major site for energy storage (in the form of triglycerides) for use during periods of caloric insufficiency. Adipocyte differentiation has important implications for human diseases such as type II diabetes, hypertension and coronary heart disease. Ceramide and ceramide 1-phosphate, bioactive sphingolipids, are also implicated in diverse cellular processes such as differentiation, cell proliferation, apoptosis and inflammation.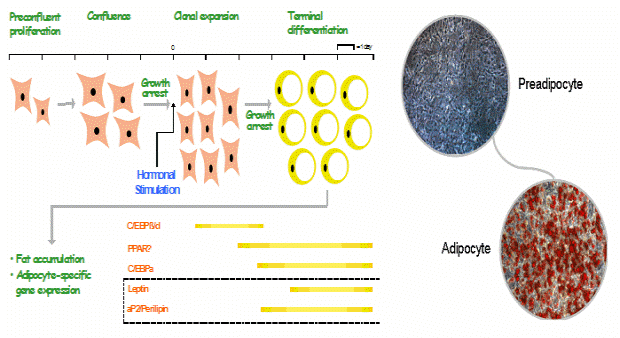 3) Antitumor Activity
Myriocin, antifungal metabolite, inhibits B16F10 melanoma cell proliferation without cytotoxicity via G2/M arrest and reduces the levels of sphingolipid metabolites. The myriocin inhibition of cell proliferation in the melanoma cells may occur by blocking the sphingolipid biosynthesis pathway and depleting sphingosine, ceramide and ceramide 1-phosphate.